MODULAR SALES OFFICES | EUROPA PREFABRI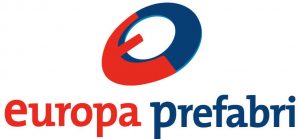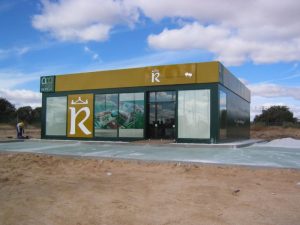 EUROPA PREFABRI is a leading Spanish company in the innovative sector of the prefabricated construction industry (portable cabins, modular buildings, modular sales offices, labour camps, etc.). We have been offering a complete service to companies in several sectors for 30 years. Since 1995, we explore the possibilities of prefabricated buildings and enhance their application in new sectors and industries. Innovation and design has become our priority, given that the main objective of our company is to offer customers the product that best suits their needs.  We study each project, from the simplest to the most complex ones, and adapt to particular needs in terms of functionality, aesthetics and prices.  
Below, we provide information about our special modular buildings, that can be used as modular sales offices, real estate promotion, rent a car offices, advertising stands…as well as customizing and finishing options we offer adapted to each project requirements.
We provide you some images of modular sales offices projects we have carried out: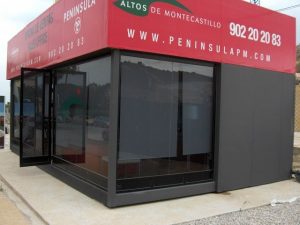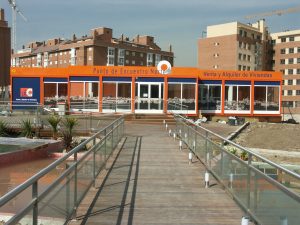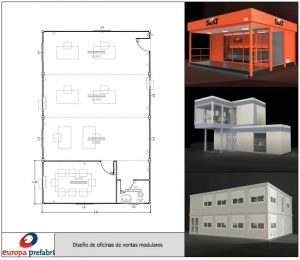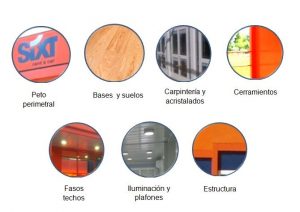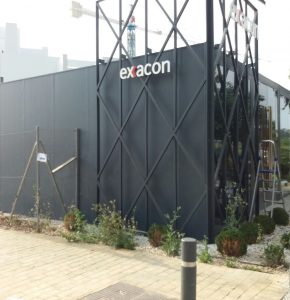 ADVANTAJES OF MODULAR CONSTRUCTION
Modular construction: the construction solution for companies
Modular construction is considered to be the business building solution, offering great advantages over traditional construction.
We have always heard the saying "time is money" and today more than ever it is an inexorable premise for companies.
SHORTER CONSTRUCTION TIME
Modular construction reduces completion time up to an 50% with regard to traditional construction  allowing further reduction of financial costs of the projects.
As it is a complete finished building, in the case of individual modules as well as in the case of modular buildings, its assembling can be made in a short time compared to traditional construction or other industrialized systems.
COST SAVINGS 
The fact of realizing most of the productive process in a controlled ambiance at the factory, allows us to offer a lower and competitive price, avoiding further increases caused by unforeseen circumstances that are common in traditional construction.
Other main advantage of this system is the necessity of a minimal founding. All the modules are self-supporting and the floor structure allows them to be placed on simple supports, even made out of wood.
FLEXIBILITY
Modular construction has a great flexibility, which allows it to adapt to the client's need in every circumstance.
This versatility is shown in different areas. Firstly with the possibility of assembling the individual modules or modular buildings vertically or horizontally. Secondly, the availability of the products for sale or rent. Lastly, with the possibility of adding or removing modules according to the temporary or permanent needs of the company.
This versatility allows the modules to have multiple applications.
SUSTAINABILITY AND RECYCLING
Europa Prefabri is environmentally engaged, that is why our products are recyclable and can be dismantled. Industrialized construction allows a more efficient use of resources, by reducing toxic emissions and generating less waste.
QUALITY
Industrialized construction in factory allows applying different quality controls in the production process, benefiting labour risk prevention by working on safer environments. On the other hand, it allows having a total control on the product manufacturing.
CUSTOMISATION
Each customer is unique and has specific needs. The versatility of modular construction allows us to adapt our products to each customer, customizing the dimensions, distribution, materials and finishing of the constructions.
INSULATION
We use innovative light materials that can have better levels of thermal and acoustic isolation and energy efficiency compared to traditional constructions.
A completely finished steel structure that consists of a floor-structure, a ceiling structure and pillars, each of them with its independent structural elements, compose prefabricated modules.
DISASSEMBLING AND TRANSPORTATION
All modules can be easily transported, completely assembled in trucks, but also disassembled or in KIT (Flat-Pack system), which allows us to transport several modules in one truck or sea container, reducing transportation costs.
The design of our modules enables to assemble and disassemble them easily, even by personnel without any previous experience, thanks to the instructions and videos we provide.
APPLICATIONS:
Real estate promotion
Rent a car offices
Sales rooms
Modular sales offices
Advertising stands
Ephemeral Architecture
Events
Headquarters Madrid
oficina@europa-prefabri.com
Tel +34 91 559 36 25
https://www.europa-prefabri.com/wp-content/uploads/promotora-oficinas-modulares.jpg
600
800
admin
https://www.europa-prefabri.com/wp-content/uploads/EuropaPrefabri-Logo.jpg
admin
2018-05-14 09:44:51
2018-05-28 13:14:05
MODULAR SALES OFFICES | EUROPA PREFABRI