We are pleased to announce that our group of companies will be presenting our prefabricated buildings Africa in the international construction exhibition Archibat 2017 during this week, held in Ivory Coast. Archibat has been held biannually for 10 years, and it is the main international construction exhibition of Western Africa.
We have been chosen, under the sponsorship of ICEX España Exportación e Inversiones (ICEX), to represent our country in the Spanish pavilion.
We would like to express our gratitude to ICEX for the trust placed in our company and we hope to have a profitable fair to show our capacity to execute prefabricated buildings Africa projects.
Europa Prefabri keeps working towards a constant international expansion. We are present in most of the important exhibitions of our booming sector, whether in Spain or abroad.
In this case, we are introducing our products in the African market.
[toc]
Europa Prefabri at Archibat 2017: prefabricated buildings Africa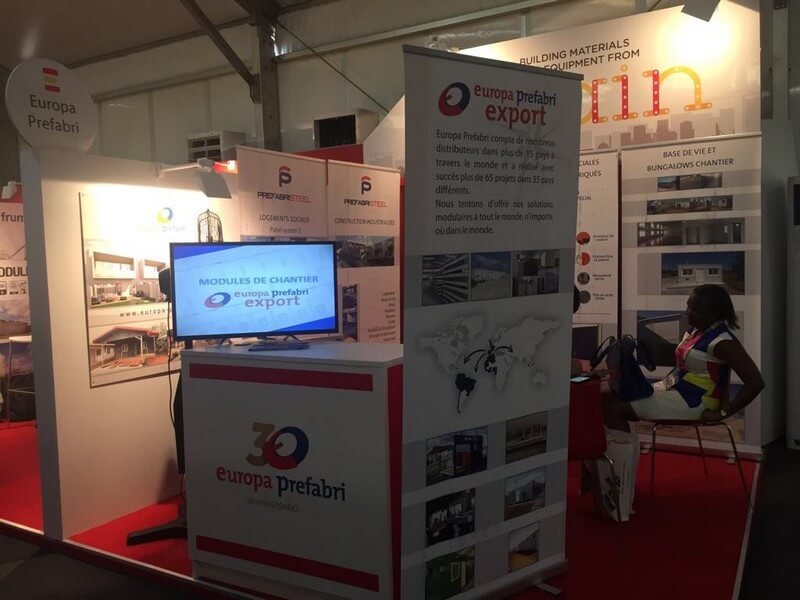 You will find us in the Stand 119 of the Spanish pavilion. The exhibition is going to take place at Parc d'Exposition d'Abidjan (Boulevard de l'aeroport), close to Port Bouet airport.
Our main goal in the fair is to promote our range of products, which can be seen as a constructive solution for many prefabricated buildings Africa projects given its versatility. In addition, one of the main advantages of modular construction is that it allows us to reduce the delivery time and the costs of the project. We will be at the entire disposal of all those who wish to know more about our products, present us a project or establish a business relationship with our company.
Archibat 2017: the benchmark building trade fair in Western Africa

Archibat 2017 is a benchmark event for construction, equipment, decoration and accommodation professionals in Western Africa. It is a space open to both sector professionals and general public, since its main objective is to contribute to the improvement of people's life quality by offering innovative solutions for the different stages of the construction process.
The exhibition, which was held in 2007 for the first time, has evolved successfully every two years, bringing together a large number of companies and visitors. It offers, in every edition, the possibility to attend conferences, observe new developments in the sector and promote international business relations.
Modular construction: the construction solution for companies
Modular construction is considered to be the business building solution, offering great advantages over traditional construction.
We have always heard the saying "time is money" and today more than ever it is an inexorable premise for companies.
Modular construction is faster than traditional construction
Modular construction reduces completion time up to an 80% with regard to traditional construction. This is possible thanks to its construction typology.
As it is a complete finished building, in the case of individual modules as well as in the case of modular buildings, its assembling can be made in a short time compared to traditional construction or other industrialized systems.
Modular construction reduces costs
The fact of realizing most of the productive process in a controlled ambiance at the factory, allows us to offer a lower and competitive price, avoiding further increases caused by unforeseen circumstances that are common in traditional construction.
Other main advantage of this system is the necessity of a minimal founding. All the modules are self-supporting and the floor structure allows them to be placed on simple supports, even made out of wood.
Flexibility
Modular construction has a great flexibility, which allows it to adapt to the client's need in every circumstance.
This versatility is shown in different areas. Firstly with the possibility of assembling the individual modules or modular buildings vertically or horizontally. Secondly, the availability of the products for sale or rent. Lastly, with the possibility of adding or removing modules according to the temporary or permanent needs of the company.
This versatility allows the modules to have multiple applications.
Modular construction: applications
Rental or sale (new or second hand) of prefabricated modular cabins that can be customized for offices, bathrooms, dressing rooms, dining rooms, storage rooms….
With a custom-designed steel structure according to the customer's needs in each project to obtain solid prefabricated buildings of three highs, on a short period of time and with a low cost. For rent and sale.
Among its multiple uses we stress: modular offices, houses, schools, hotels, student residences, industrial facilities, dining rooms and dressing rooms, clinics, hospitals and medical centres, commercial and business surfaces, customer service offices…
Custom and manufacture of modular constructions for rent and sale of customer service, real state promotion, advertising stands, events… As well as ticket offices, information stands, kiosks, cafes, businesses…
We calculate the steel structures to guarantee wind and snow resistance depending on the location. We also guarantee meeting the TBC requirements and other local technical regulations. For rent and sale.
Modular buildings in KIT system, which can be fully dismantled, are designed to take up minimal space and thereby manage to reduce transport costs. Fast and easy assembly, less than 5 hours for a standard unit. All our modules and cabins can be transported in KIT system.
Temporary warehouse solutions for all kinds of enterprises or individuals. We can also transform containers for multiple uses: offices, stands, wine cellars, garages… For sale and rental.
Temporary or permanent solutions. With different uses. Bedrooms, offices, dressing rooms, bathrooms, dining rooms, warehouses, labs, security cabin guards, schools, leisure rooms…
All modular buildings can adapt to your space needs and can be horizontally or vertically assembled. We can also provide the possibility of renting furniture, installing air conditioning and pre-installing voice and data.
Temporary or permanent. They can be used for area access control, reception, security points, information cabins… For sale and rental.
For transportation, we use the KIT or FLAT-PACK system, in order to reduce logistics costs.
Advantages of modular construction
Sustainability and recycling
Europa Prefabri is environmentally engaged, that is why our products are recyclable and can be dismantled. Industrialized construction allows a more efficient use of resources, by reducing toxic emissions and generating less waste.
Quality

Industrialized construction in factory allows applying different quality controls in the production process, benefiting labour risk prevention by working on safer environments. On the other hand, it allows having a total control on the product manufacturing.
Customisation
Each customer is unique and has specific needs. The versatility of modular construction allows us to adapt our products to each customer, customizing the dimensions, distribution, materials and finishing of the constructions.
Isolation
We use innovative light materials that can have better levels of thermal and acoustic isolation and energy efficiency compared to traditional constructions.
A completely finished steel structure that consists of a floor-structure, a ceiling structure and pillars, each of them with its independent structural elements, compose prefabricated modules.
Dissembling and transportation
All modules can be easily transported, completely assembled in trucks, but also disassembled or in KIT (Flat-Pack system), which allows us to transport several modules in one truck or sea container, reducing transportation costs.
The design of our modules enables to assemble and disassemble them easily, even by personnel without any previous experience, thanks to the instructions and videos we provide.