We carried out a new Project of parking shades for large surfaces. The Company Carrefour has trusted us again for the installation of tensile canopies.
Both the cover and the spans are painted in light grey.
We have installed tensile canopies to cover 382 vehicles, protecting them from the sun and rain.
All our parking canopies are flexible and modular, they are designed, manufactured and installed in accordance with the requirements and preferences of each of our customers, regardless of the sector of activity concerned.
We can include anything our client wants in the cover, from a logo to institutional customer information.
Europa Prefabri guarantees the highest quality in its covers. The metal steel structures used in the manufacture of parking canopies are made of different alloys of the highest quality. The structures can be galvanized and lacquered in the desired colour.
The concrete foundations vary according to the structure to be applied and are fixed to the metaltextile structures with suitable fasteners that guarantee the necessary stability.
The covers are high-strength, PVC-coated and lacquered on both sides. The coating process ensures maximum waterproofing and breathability, protection against UV rays and thermal insulation, as well as easy cleaning and non-adhesion of external elements (particles, snow, etc.).
Below, we show you our range of parking shades for large surfaces.
Parking shades for large surfaces
Throughout our more than 30 years of experience, we have carried out large projects. We have installed parking canopies for airports (Madrid, Malaga, San Javier); for train and tram stations (Elche railway station, tram depots in Ouargla, Algeria); for large supermarkets, such as the projects carried out for Lidl, E.Lecrec, Simply, Carrefour… and for public institutions, such as those that we carried out for the Navarra Police Force, the Spanish Navy or the Carlos III Institute.
Parking canopies for supermarkets and shopping malls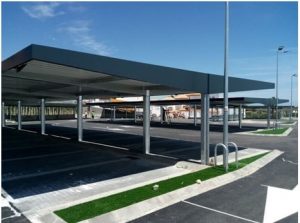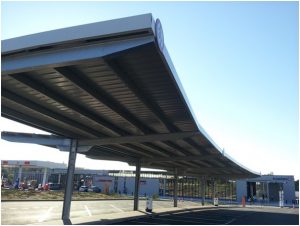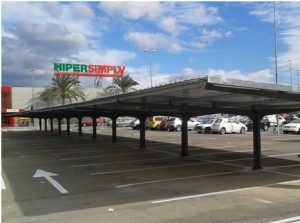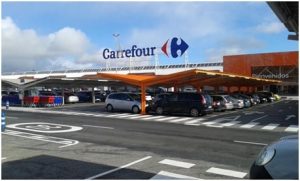 We carried out the manufacture and installation of parking canopies for Carrefourin Las Rozas, as part of the refurbishment works of the Shopping Mall El Pinar. The owner company, Carrefour Property, awarded us all the works to be carried out in the parking lot including the manufacture and installation of new canopies along with the conditioning of those already installed, signposting, painting…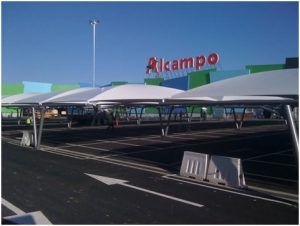 We installed 250 carports for the Shopping Centre Abadía de Toledo with our tensile canopy.
https://www.europa-prefabri.com/wp-content/uploads/marquesina-aparcamiento-3.jpg
3024
4032
admin
https://www.europa-prefabri.com/wp-content/uploads/EuropaPrefabri-Logo.jpg
admin
2018-06-20 10:22:59
2019-05-31 13:19:29
PARKING SHADES FOR LARGE SURFACES: NEW PROJECT FOR CARREFOUR