EUROPA PREFABRI: SUPPLIER OF LIDL SUPERMARKETS
Europa Prefabri is specialised in the manufacture and installation of parking canopies for large surfaces. Our company will supply and install parking canopies for all Lidl Supermarkets in Spain, along with another company of the sector.
We are proud to announce the appointment of our company to be, along with another, exclusive supplier to Lidl Supermarkets. We started this cooperation by developing a project in Lidl Felanitx (Mallorca). For this project we manufactured and install parking shades for 24 double parking spaces with one particular feature: we added Stacbond covering the perimeter to embellish the construction. The finishing of the covering is anthracite grey (RAL- 7016).
We named the model installed at Majorca as LIDL C-1 20/40, with tuve pillar.
Below, we show you our range of parking canopies for large surfaces.
Parking canopies for large surfaces
Throughout our more than 30 years of experience, we have carried out large projects. We have installed parking canopies for airports (Madrid, Malaga, San Javier); for train and tram stations (Elche railway station, tram depots in Ouargla, Algeria); for large supermarkets, such as the projects carried out for Lidl, E.Lecrec, Simply, Carrefour… and for public institutions, such as those that we carried out for the Navarra Police Force, the Spanish Navy or the Carlos III Institute.
Parking canopies for supermarkets and shopping malls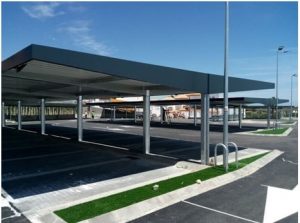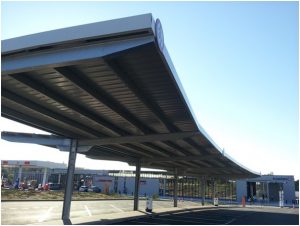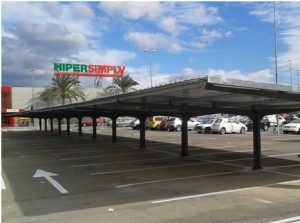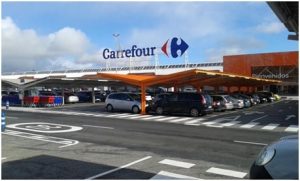 We carried out the manufacture and installation of parking canopies for Carrefour in Las Rozas, as part of the refurbishment works of the Shopping Mall El Pinar. The owner company, Carrefour Property, awarded us all the works to be carried out in the parking lot including the manufacture and installation of new canopies along with the conditioning of those already installed, signposting, painting…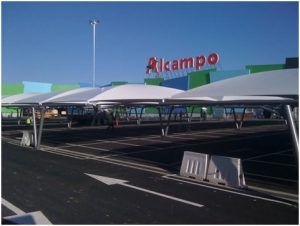 We installed 250 carports for the Shopping Centre Abadía de Toledo with our tensile canopy.
https://www.europa-prefabri.com/wp-content/uploads/marquesinas-para-supermercados.jpg
1200
1600
admin
https://www.europa-prefabri.com/wp-content/uploads/EuropaPrefabri-Logo.jpg
admin
2018-06-18 10:48:33
2019-05-31 13:19:28
EUROPA PREFABRI: SUPPLIER OF LIDL SUPERMARKETS