Portable cabins for events: smart modular solutions
The specialised department Europa Prefabri Events has as a goal meet the specific needs of our customers, making easier the organisation of every show, sports event, concerts, festivals, fairs, parties, celebrations… The portable cabins for events that we offer will all the needs of your event.
We count on a professional team with a great experience ready to advise and provide the best solutions for your event, from manufacturing custom-products, to transportation, assembling and installation, as well as maintenance and cleaning.
Besides portable cabins for events, we offer rental and sale of portable toilets, dressing rooms, luxury restrooms, prefabricated modules, portacabins for different uses, containers, fences and enclosure systems… and everything that you might need to celebrate your event.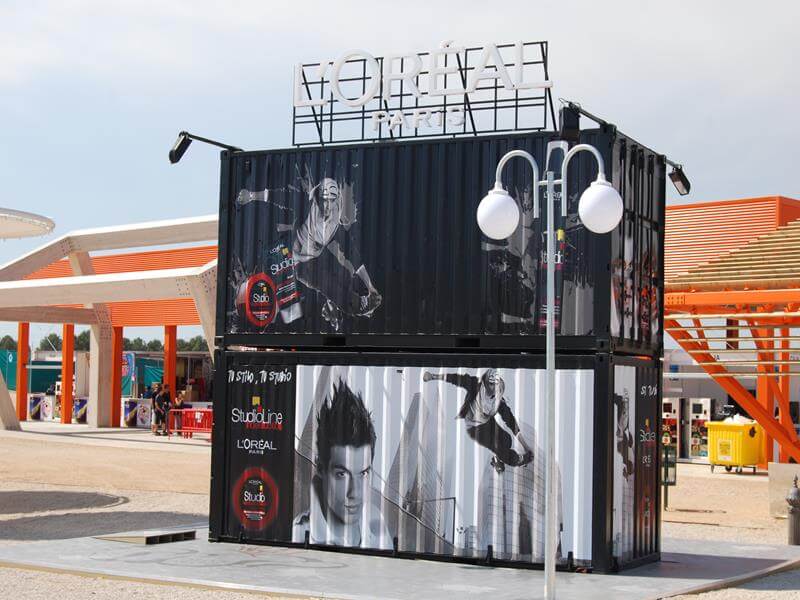 We count on a wide range of prefabricated modules and portacabins designed for being used as dressing rooms for artists, restrooms, temporary offices, dining rooms, ticket offices, bars, temporary offices, mobile unit, shops,event stands, showrooms, kiosks…
We can customize our standard modules on their external and internal surface in tight deadlines adapting them to the different uses they have as well as design and manufacture special modules depending the specific needs of our customers.
We can also customize sea containers for advertising purposes.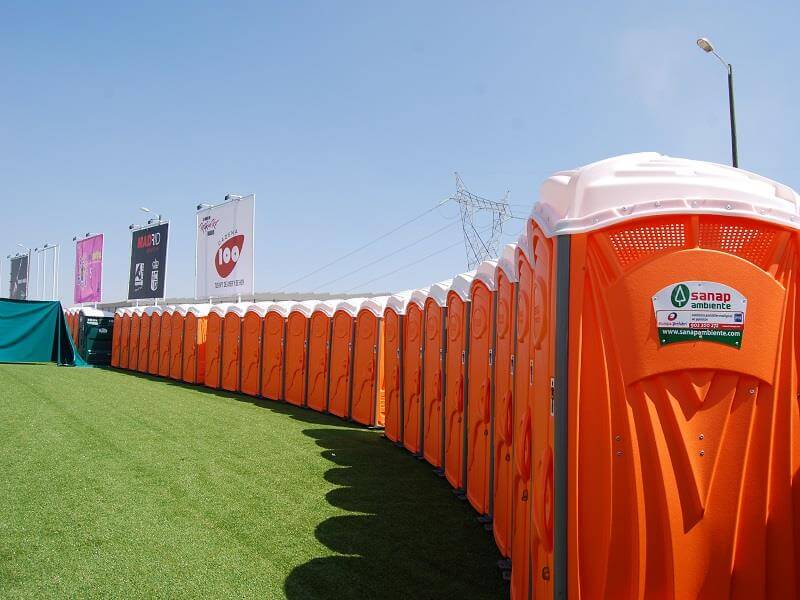 We count with a wide range of models in our catalog to meet the needs of any kind of event:
Ecological portable restrooms, independent or with a water supply connection.
Bathrooms and portable showers.
Restroom models with different distributions.
Bright showrooms of all sizes and purposes
Dressing rooms and luxury restrooms for the most prestigious events…
Maintenance and cleaning during the event.

Beyond the portable cabins for events, we also provide any kind of fences and enclosure systems that you might need for the organisation of the events, from the classic pedestrian fence to special crowd control fences, road barrier, portable fences with concrete feet and other special models.
We can paint and customize the fences in order to adapt them to the needs of our customers.
Our last events
We have great experience celebrating mass events of different kinds:
Concerts and music festivals:
Viñarock
This veteran music festival, that has been celebrating uninterruptedly since 1996, is one of our regular customers. As professionals manufacturing portable cabins for events, we have been working for this event for several years, providing different products taking into account what they need every year. Among the products provided, you can find portable cabins and modules for different uses: offices, ticket stations, medical services, security, shops, stands, dressing rooms, wcs… We have also provided several kilometres of fences.
Dcode festival
The celebration of this festival, since 2011, usually takes place at the Science of Information Faculty of the Universidad Complutense de Madrid. Having great experience manufacturing portable cabins for events, the organizers of the festival have trusted on our services in several editions for rental and installation of all the modules, temporary offices, dressing rooms, wcs and prefabricated showers, needed for the good development of the festival.
Rock in Rio
We have participated in several editions of the Rock in Rio, popularly known as "The greatest festival in the world", with editions at Lisbon and Madrid.
The organizers of this event put us on charge, one more year, of providing temporary offices, fences, containers and portable wcs.
We have also installed different modular constructions such as prefabricated kiosks, advertising stands, shops, bars, special advertising modules, ticket spots…
Starlite
The organizers of this great event for music, fashion, cinema and arts have trusted for several years on us to provide modules, special modules, containers transformed in comic kiosks, portable bathrooms and fences needed to meet the requirements of the festival.
We have also installed temporary offices for artists.
MTV Day 2012
The concert received 18.000 people and we have provided prefabricated modules for different uses, bathrooms and fences.
Sport events:
Champions League Final 2010
The organisation of Champions League 2010 in Madrid, where Inter Milan played against Bayern Munich, which demanded our services to supply prefabricated modules and fences
Open of Andalucía
During the celebration of the Open of Andalucía edition 2009, we provided standard restrooms and luxury restrooms.
Advertising campaign Toro Roso
Having great experience manufacturing portable cabins for events, we manufactured and installed in a gas station close to Madrid a special glass modular building, conformed by several modules, to an important advertising agency as a special campaign to promote the motor-racing team sponsor Toro Roso.
Mutua Madrid Open Masters 1000
For the celebration of the most important tennis tournament that takes place in our country, the organizers of the event demanded ticket office modules painted in the event's corporate colour and other office modules for some of the tournaments' collaborating companies.
Film Events

Málaga Festival 2013
The organizers counted on us for installing an important quantity of prefabricated modules that have been adapted and modified for their use as shops, advertising stands, cafes, bookshops…
Open Star
The organizers of this event counted one more year on Europa Prefabri for the supply and installing of portable restrooms, enclosure, ticket office module, offices, bathrooms…
A great event that takes place in the most exclusive parks of cities like Zurich, Dusseldorf, Lisbon, Sidney, Dubai, Rio de Janeiro, Santiago de Chile and that became a benchmark of summer nights in Madrid. Europa Prefabri has been present there in all their editions.
Open Air
The Tierno Galván park became an open air cinema with a giant screen of almost 300 m2 and comfortable deck chairs. The screen also counts with the latest technology on sound, so that movie sound will have a great quality.
We provided to Open Air cabins, modules, restrooms and fences.
Local Fairs and Patronal Festivities

As professionals manufacturing portable cabins for events, we have supplied  modules, cabins, restrooms and dressing rooms to many fairs and patronal festivities, such as Málaga's Fair, festivities at Madrid, Las Rozas, Majadahonda, Navacerrada, El Viso, Carranque, El Soto del Real, Galapagar…
Religious Events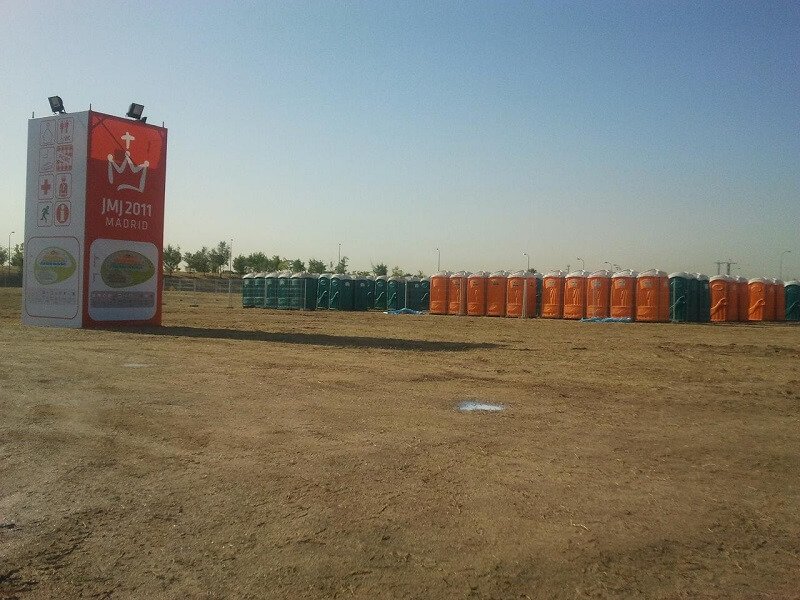 During the celebration of the World Youth Day in 2011 (WYD 2011), we provided a great number of restrooms and fences to make easier the event's celebration.
https://www.europa-prefabri.com/wp-content/uploads/rock-in-rio14.jpg
600
800
admin
https://www.europa-prefabri.com/wp-content/uploads/EuropaPrefabri-Logo.jpg
admin
2017-01-30 10:28:10
2017-04-07 10:29:01
Portable cabins for events: smart modular solutions