Prefabricated foldable warehouse in Barajas for AENA | Prefabri
We have manufactured and assembled a prefabricated foldable warehouse in Barajas for AENA, composed by a door gable end, a closed gable end and nine closed modules. Five of these count with a translucent roof in order to naturally light up the warehouse. It has a surface of 239sqm.
The fastening of the prefabricated foldable warehouse has been made with chemical dowels to a concrete slab that had been made by the customer.
The prefabricated foldable warehouse has been delivered completely installed and finished.
Europa Prefabri is a group of companies with more than 30 years of experience in modular construction and manufacturing of metallic structures, such as parking canopies, grandstand terraces, pedestrian passages or metallic structures for prefabricated warehouses.
Technical specifications of the Project: prefabricated foldable warehouse in Barajas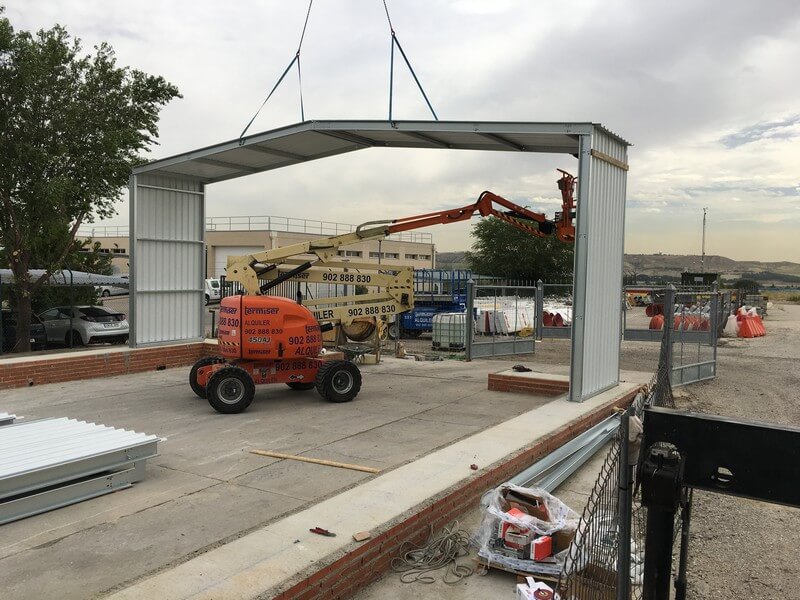 Metallic structure
The main metallic structure is made with C type composite profiles cold-rolled and galvanized
The secondary metallic structure is executed on the roof and perimeter façades, formed also by C type cold-rolled and galvanized profiles.
Besides, it includes zinced screws and fixings, all of them high-resistance
Metallic roof
The metallic roof is simple and it's delivered completely finished. The metallic roof is formed by border shaped profiles, made in galvanized and pre-lacquered steel sheet with a trapezoidal cut. In the same way, a proportional part of joint and roof finishing is included.
Metallic Façade
The metallic façade is simple on the sides and the gables, formed by a border shaped profile made in galvanized and pre-lacquered steel sheet with a trapezoidal cut, including a proportional part of finishing pieces.
Metallic carpentry
The metallic swiveling double gate on sheet with manual opening made through counterbalances and wicket door.
Besides, the 10% of the warehouse's surface is made by translucent panels of compact polycarbonate.
Isolation
The foldable prefabricated warehouses can be isolated or without isolation. In this case, the customer decided to isolate the warehouse with Rockwool.
Eurocode
This prefabricated foldable warehouse has been delivered accomplishing the Eurocode, which is a set of European standards for engineering of voluntary nature, drafted by the European Committee for Standardization (ECS) and that try to unify criteria and rules in design, calculation and dimensions of prefabricated structures and elements for construction, substituting in this case the Technical Building Code (TBC). This means developing the specific calculations for wind speed and snow and use overloads, taking into account the level of the ground.
Transportation of the prefabricated foldable warehouse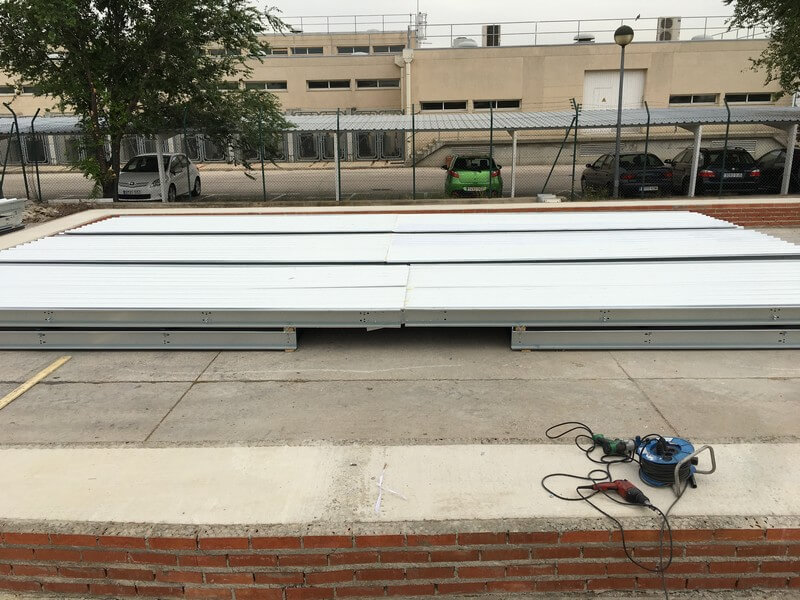 The warehouse was sent with folded modules and separated gable sections, completely assembled, over the trucks needed till the installation point of the warehouse. The assembly of the warehouse was made using a crane.
Prefabricated warehouse, which one to choose?
There are two main types of prefabricated warehouses: prefabricated foldable warehouses and prefabricated detachable warehouses.
General features of prefabricated warehouses:
We do the calculations of the steel structures in order to make sure the wind and snow overloads depending on the location
Quick manufacturing and assembly
Closed and economic price
It requires limited foundations thanks to its' light modular metallic structure
It's completely detachable, its' location can be changed on a reduced cost
The lateral enclosure can be made on simple steel or with an isolating sandwich panel
They can be easily expandable through the unión of modules
Simple or gable rood
Wide variety of colours for the metallic enclosure of the warehouse
Custom carpentry and finishing
What are the prefabricated detachable warehouses?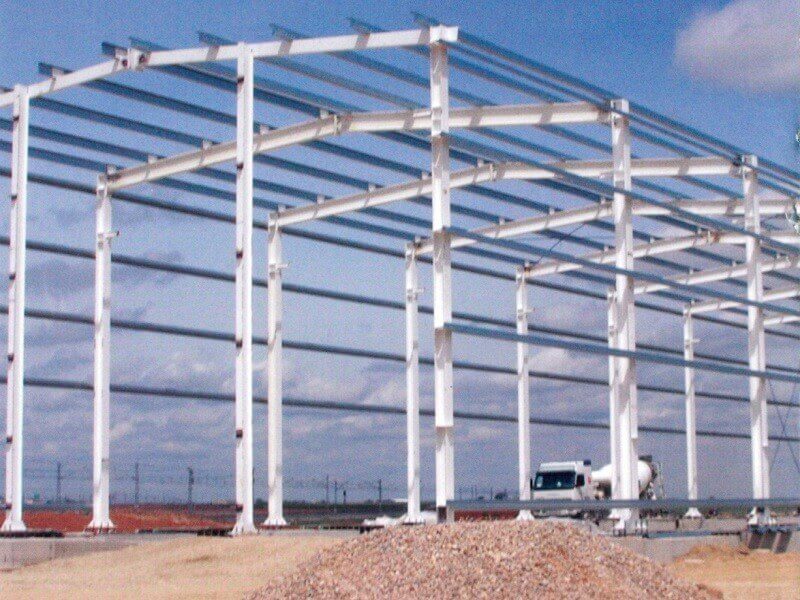 It is a completely detachable industrial unit, composed by a prefabricated modular metallic structure. The roofing and facades are incorporated to this structure. These can be perfectly adapted to the needs of the customer, as it's a really versatile construction.
What is a prefabricated foldable warehouse?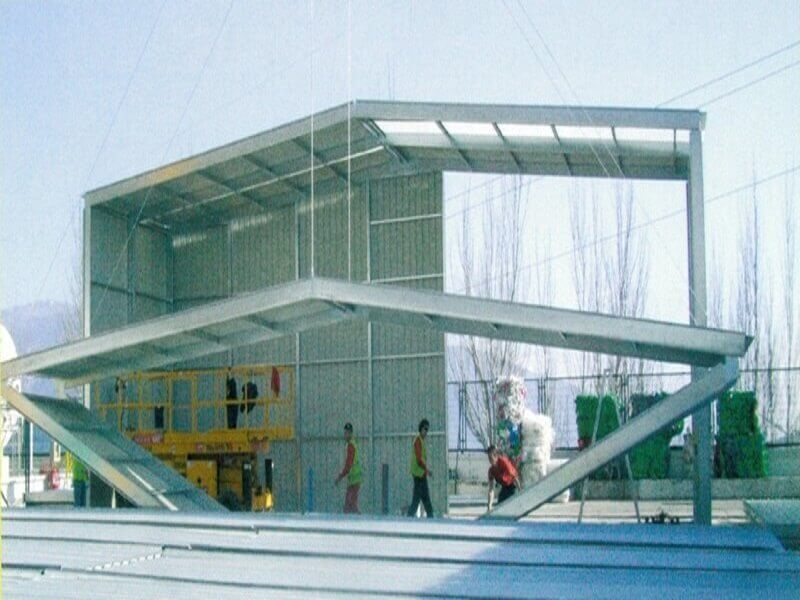 It is a modular industrial unit that can be easily detachable and modified.
It is composed by the union of independent modules. The structure of these modules is made by cold laminated galvanized profiles that compose porticos.  Besides, the whole warehouse has its both open sides closed through gables.
The secret of the foldable warehouse is its foldable metallic structure, perfectly detachable and easy to re-assemble. It can be easily relocated.
Uses of prefabricated foldable warehouses
Warehouses, storehouses, deposits
Classrooms, dining rooms, multi-purpose rooms
Workshops, factories
Shops, supermarkets
Temporary hangars
https://www.europa-prefabri.com/wp-content/uploads/Nave-prefabricada-plegable-en-Barajas-para-AENA-12.jpg
600
800
admin
https://www.europa-prefabri.com/wp-content/uploads/EuropaPrefabri-Logo.jpg
admin
2017-08-11 12:02:51
2018-03-28 13:18:03
Prefabricated foldable warehouse in Barajas for AENA | Prefabri